Space Cage
From ZineWiki
Jump to navigation
Jump to search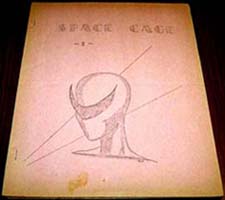 Space Cage was a science fiction fanzine by Lee Anne Tremper, now known as Lee Anne Lavell.
Published in Indianapolis, Indiana, U.S.A., Space Cage was the official organ for the Indiana Science Fiction Association. The first issue appeared in February 1960. At least eight issues were released.
The fanzine featured the "Space Page", which was edited by Jim Lavell. He invented the non existent fan 'Mrs. Pboth' to issue the meeting notices. As Lee Anne Lavell relates in the pages of Askance # 10, the expression was derived from a real life member of the ISFA; "Jim was doing the editing and publishing of 'Space Page' and in one issue he thought it would be funny to compare Mary Rita to a character in Peanuts, so he had as a running joke the phrase "Mary Rita Schlichte pats birds on the head". He ended the notice with the acronym for the above: MRS/PBOTH". However, several people didn't catch on and wanted to know who Mrs. Pboth was."
As well, Lee Anne Lavell wrote a fanzine review column called "LEEthal", and Randy Mitchell contributed a column entitled "The Patter Of Little Mice".
Lee Anne Lavell also published the fanzines Merlin and, with Jim Lavell, Embelyon.
In 1952, Lee Anne Tremper co-authored, with Ray Beam, the fanzine Indiana Fantasy.
More recently, Lee Lavell has been contributing to the fanzines Askance, Pixel, and Time and Again.