Noctulpa
From ZineWiki
Jump to navigation
Jump to search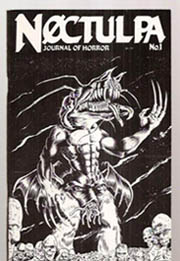 Noctulpa was a literary horror fanzine edited by George Hatch and published by Horror's Head Press.
Noctulpa, subtitled "Journal of Horror", was published in New York, U.S.A. The first issue appeared in 1987, and six issues followed as it was published into the 1990s. After issue 4, released in 1990, later issues were published as anthologies under different titles. Issue 5, from 1991, was called "Guignoir and Other Furies; issue 6, from 1992, was named "Souls In Pawn"; #7, from 1993, was titled "Sinistere".
Cover art work was by Alan M. Baker (#1), John Borkowski (#4), Peter H. Gilmore (#5), Nicholas Scarcy (#6), and T. Winter-Damon (#7).
Contributors of fiction included David Barker (Midnight Shambler), Donald F. Blanford, Cliff Burns, Randy Chandler, Paul Curtis, Kenneth P. Czech, Don D'Ammassa (Mythologies), Joseph E. Dressier, Janet Fox (Scavenger's Newsletter), C.S. Fuqua, K.J. Harmon, Connie Hirsh, Don Hornbostel, Gerard Houarner, Stefan Jackson, Ronald Kelly, Nancy Kilpatrick, Anke Kriske (Doppelganger), William Laughlin, Miroslaw Lipinski, H. Andrew Lynch, D.R.McBride, Adam Meyer, John Moore, A.R, Morlan, Lelan Neville, Mike Olsen, Jeffrey Osier, Norman Partridge, Robert Petitt, Mark Rainey (Deathrealm), Octavio Ramos, Jr., Mike Reckard, James D. Renolds III, Carrie Richerson, C.M. Rippberger, Russell Roberts, Timothy J. Rucinski, John Schoffen, Dean Allen Schreck, David B. Silva, James Snyder, Dale L. Sproule (TransVersions), David Starkey, David W. Taylor, Steve Rasnic Tem (Umbral), Scott H. Urban (Frisson), Bobby G. Warner, Graham Watkins, Don Webb, T.R. White, Wayne Rile Williams, Chet Williamson, and t. Winter-Damon.
Contributors of poetry included Brenda Curtis, Keith Allen Daniels, Robert Frazier (Speculative Poetry Review, Star*Line), John Grey, John DeVere Nelson, Kim L. Niedigh, Jacie Ragan, J.P. Reedman, Jessica Amanda Salmonson (Fantasy Macabre), Ann K. Schwader, Marge B. Simon (Star*Line), and Ree Young.