Thin Ice
From ZineWiki
Jump to navigation
Jump to search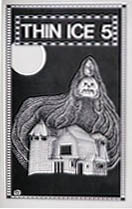 Thin Ice is a small press literary publication edited by Kathleen Jurgens.
Thin Ice was published in the 1980s and 1990s in Council Bluffs, Iowa, U.S.A. and was devoted to weird, fantasy and science fiction, poetry, and illustration. At least 17 issues were published: #5 in 1989, #10 appearing in 1991, #14 in 1993, and #17 in 1995.
Covers were by Cindy Rako (#5), Charles Dougherty (#6), Alan Jude Summa (#7), Roger Gerberding (#8, #12), Larry Dickison (#9, #17) Augie Wiedemann (#10), Timothy Standish (#11), Judith Holman (#13), H.E. Fassi (#14), Helen Shoenfeld (#15), and Wayne Desrochers (#16).
Illustrations were by John Borkowski, Richard Dahlstrom, Jim Dapkus (Bleak December), Larry Dickison, Kevin Duncan, Roger Gerberding, Alan Giana, Randy Moore, Yvonne Navarro, Jeff Osier, Cindy Rako, Donald Schank, Helen Shoenfeld, Marge B. Simon (Star*Line), Timothy Standish, W. Gregory Stewart, Allen Jude Summa, Joseph A. West, Augie Wiedemann, and Russell Yeager.
Poetry was by Robert Baldwin, John Benson (Not One Of Us, Doppelganger), R.L. Boas, Michael Bracken, L.A. Buchanan, C. Darren Butler (Magic Realism, A Theater of Blood), Candyce Byrne, Gary William Crawford (Night Songs), Holly Day, Al Desrochers, Denise Dumars, Wayne Edwards (Palace Corbie), Dona Fox, Joey Froehlich, Brice P. Gorman, K.S. Hardy, Chad Hensley, Leonard Jansen, Barbara Johnson-Haddad, Charlee Jacob, Ronald Edward Kittell, Mark Leslie, Todd Mecklem, De Odom, John Phillips Palmer, Alton Parker, Marthayn Pelegrimas, Jacie Ragan, Janet P. Reedman, Mark Rich (The Magazine of Speculative Poetry, Treaders of Starlight), Tom Rolls, C.D. Russell, Steven L. Shrewsbury, Marge B. Simon, Martha Speck, W. Gregory Stewart, Scott H. Urban (Frisson), D.M. Vosk, and Paul Weinman.
Fiction was by Will Ackerman, Duncan Adams, Robert Baldwin, Michael Bracken, Sherrie Brown, Cathy Buburuz (Champagne Horror), Donald Burleson, Terry Campbell, Lenore Carroll, Ann Charles, Shearon Charlton, William D. Cissna, R.A. Conine, Deidra Cox, Annette S. Crouch, Richard D'Eustachio, Joseph del Tufo, Hugh Fox, Benjamin T. Gibson, Gail Giles, William H. Green, John Grey, Sherri Hedberg, Ned Hickson, Christine Hoard (Twisted), Gerard Daniel Houarner, Amke Kriske (Doppelganger), Charles Richard Laing, Sean M. Laurent, Lisa Lepovetsky, Barbara J. Less, D.F. Lewis (Nemonymous), D.A. Lipton, H. Andrew Lynch, Albert J. Manachino, Raymond Marshall, Gene Matthews, Richard F. McGonegal, Rick McMahan, Doris McMichael, Trip Neisler, Emily Newland, Carol Trowbridge Noble, Joan Vander Putten, James Rada, Jr., Tom Raber, Stephen Mark Rainey (Deathrealm), James P. Roberts, Barbara Rosen, Cindy Rosmus, Mark C. Sadler, James C. Spurlock, Lucy Taylor, John Villesvik, Tim Waggoner, Bobby Warner, Felixx Wasser, J.N. Williamson, David Niall Wilson (The Tome), t. Winter-Damon, and Kathleen Woodall.
Interviews were with John Borkowski, Roger Gerberding, and David Kubicek.