The Riot Grrrl Collection
From ZineWiki
Jump to navigation
Jump to search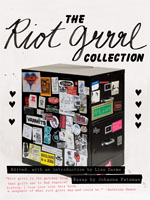 The Riot Grrrl Collection is an anthology compiled by Lisa Darms, gathered from the archives of The Fales Library of New York University Riot Grrrl Archives.
The Riot Grrrl Collection was released in 2013 and published by The Feminist Press. It includes an introduction by Lisa Darms and an essay by Johanna Fateman.
Included in the book are extensive selections from many Riot Grrrl zines, including ArtaudMania by Johanna Fateman; Bamboo Girl by Sabrina Margarita Alcantara-Tan; Bikini Kill by Kathleen Hanna, Tobi Vail, and Kathi Wilcox; Chainsaw by Donna Dresch; Chop Suey Spex by Felix Endara and others; Cupsize by Sasha Cagen and Tara Needham; Doris by Cindy Crabb; Fembot by Gary Fembot; Girl Germs by Molly Neuman and Allison Wolfe; Gunk by Ramdasha Bikceem; I (Heart) Amy Carter by Tammy Rae Carland; i'm so fucking beautiful by Nomy Lamm; Jigsaw by Tobi Vail; My Life With Evan Dando Popstar by Kathleen Hanna; riot grrrl by Molly Neuman, Allison Wolfe, and others; Riot Grrrl NYC; Outpunk by Matt Wobensmith; Photobooth Toolbox by Andrea Fernandez; Slant by Mimi Nguyen; and Thorn by Kelly Marie Martin.
The collection also includes flyers from the bands Bikini Kill, Excuse 17, Fifth Column, Girl Convention, Group Hug, Heavens to Betsy, Huggy Bear, Team Dresch, The Troublemakers and Witchy Poo.
Also included is correspondence from Molly Neuman, Tobi Vail, and others, original art work, manifestos, and flyers for zines such as Bowling Ball Trimnastic, Demirep, Panacea, The Ruby Slippers, Teenage Whoremoans, Veronica and others.
External Links