Molly Neuman
From ZineWiki
Jump to navigation
Jump to search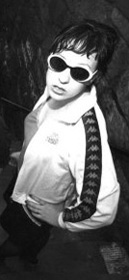 Molly Neuman is a zinester, musician and one of the architects of the Riot Grrrl movement.
While at University of Oregon together, Molly Neuman teamed up with Allison Wolfe to create Girl Germs, an influential zine that helped create and instigate the Riot Grrrl movement. The two released five issues of their zine and documented the forming of their band Bratmobile. The band played their first show on February 14, 1991.
During Spring break of that year, the two travelled to Washington DC. During their stay, friends Jen Smith and Christina Billotte joined the band and they recorded a cassette tape, Bratmobile DC. After the break, Allison and Molly returned to Oregon, and Erin Smith joined the band. Jen Smith kept in touch and wrote to Allison of the riots in Washington in the summer of 1991, saying, "This summer's going to be a girl riot". That phrase would be used by Molly for the creation of the zine riot grrrl, a publication designed to bring together young women with common interests and notify this community of activities and meetings, which quickly became the Riot Grrrl movement, eventually spreading across North America, Europe and Australia.
During this time, Molly also contributed to Jigsaw, published by Tobi Vail, another zine essential to the Riot Grrrl movement. When Bratmobile broke up for a period, Molly joined up with Bikini Kill members Tobi Vail, Kathi Wilcox and Billy Karren to form the group The Frumpies.
Molly later went on to play with The PeeChees, and again with Bratmobile during their reunion in the 2000's.
Zines
Contributions
External Links