Girl Germs
From ZineWiki
Jump to navigation
Jump to search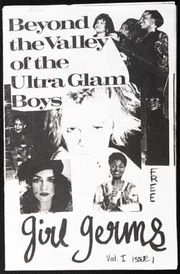 Girl Germs was a zine created by Allison Wolfe and Molly Neuman, both members of the band Bratmobile.
The two editors met at the University of Oregon and soon teamed up to create Girl Germs. It was a cut and paste photocopied publication of which five issues were released. Published just before Riot Grrrl truly emerged, it helped pave the way for this movement, along with other proto-Riot Grrrl zines such as Tobi Vail's Jigsaw and Bikini Kill by Vail, Kathi Wilcox and Kathleen Hanna.
Contributors to Girl Germs included Erin Smith (also of Bratmobile and co-editor of the zine Teenage Gang Debs); Sue P. Fox; Kathleen Hanna; Jean Smith, of the band Mecca Normal; the editors of Double Bill, Caroline Azar, Jena von Brucker, G.B. Jones, Johnny Noxzema and Rex; Jen Smith (editor of Red Rover); and Kaia Wilson. Groups interviewed by Girl Germs included Calamity Jane, Unrest, 7 Year Bitch, Jawbox and Fastbacks.
Molly Neuman also published the zine riot grrrl, and Allison Wolfe was a contributor.
Selections from various issues of Girl Germs were included in the 2013 anthology The Riot Grrrl Collection, edited by Lisa Darms and published by The Feminist Press.
Archives
Archives that have copies of Girl Germs: