Jigsaw
From ZineWiki
Jump to navigation
Jump to search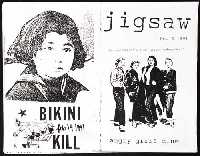 Jigsaw was a zine started in 1988 by Tobi Vail of Olympia, WA., U.S.A.
Vail wrote mostly about the punk and feminist scenes of the Pacific Northwest, both of which Vail had a hand in helping along via the pages of Jigsaw, where in early issues she helped promote bands such as Mecca Normal and Nirvana and called for more women to be involved in the punk scene. Vail was one of the women behind the creation of the Riot Grrrl movement of the early 1990's within the pages of Jigsaw. Riot Grrrl has been said to have been one of the few social and musical movements to have originated as a direct result of the zine scene. Kathleen Hanna, Vail's bandmate in the group they started together called Bikini Kill, was a frequent contributor to Jigsaw, particularly in issues #3 and #4. Other contributors included Donna Dresch of Chainsaw, Jen Smith of Red Rover, and Molly Neuman of Girl Germs.
Vail has recently restarted Jigsaw as a blog. The most recent zine, Jigsaw #8, is only online at her website Bumpidee and is only in text form and is somewhat incomplete. Vail is also working on archiving all previous issues of Jigsaw online, including the unpublished Jigsaw #6.
Selections from Jigsaw are included in the anthology The Riot Grrrl Collection, edited by Lisa Darms and published in 2013 by The Feminist Press.
Jigsaw is included in the Sarah Wood Zine Collection at Duke University.
External Links