Donna Dresch
From ZineWiki
Jump to navigation
Jump to search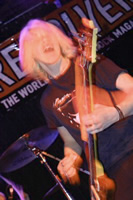 Donna Dresch is a zine editor and musician based in Portland, OR, where she also runs the independent record label Chainsaw.
Donna began her zine Chainsaw in the late 1980s in Olympia, WA. Four issues were released. It was a proto-Riot Grrrl zine, since one of its concurrent themes was women in music, as well as being one of the early Queercore zines. The last issue was a music compilation cassette tape which Donna sold while on tour with Fifth Column, and which announced the onset of Chainsaw as a music label. Chainsaw has released recordings by such artists as Sleater Kinney, Team Dresch, Longstocking, The Third Sex, Tracy +the Plastics, The Need, Excuse 17, Heavens to Betsy and many others.
Donna Dresch has been a member of a number of bands, most notably Team Dresch, her namesake band, for which she played guitar and bass. They released two albums and a number of singles in the 1990's and then broke up. However, after reuniting to play a show in 2004, they have since begun to tour and record again. She also been a member of Davies Vs. Dresch, Danger Mouse, Fifth Column (with Caroline Azar), Noxious Fumes, Rastro! (with Jen Smith), and Screaming Trees. She has recorded with a number of bands including Dinosaur Jr., The Go Team, Hazel, Lois, Mary Lou Lord, Phranc, Amy Ray and Some Velvet Sidewalk.
Team Dresch are featured in interviews and onstage in the film She's Real, Worse Than Queer, directed by Lucy Thane. Donna also appears in the movie The Yo-Yo Gang, directed by G.B. Jones.
Donna has been a contributor to many zines including Jigsaw by Tobi Vail, Outpunk, J.D.s, and I *Heart* Amy Carter. She was featured on the cover of issue five of Homocore by Deke Nihilson and Tom Jennings and has been interviewed in many zines, including Someone Said and True Reality Rock Report. An excerpt from an article she wrote for Jigsaw appears in the book Rock She Wrote, edited by Evelyn McDonnell and Ann Powers.
Zine
Contributions
Books
Rock She Wrote, edited by Evelyn McDonnel and Ann Powers, Delta, N.Y., U.S.A. ISBN 0-385-31250-4 (1995)
Films
She's Real, Worse Than Queer by Lucy Thane (1997)
The Yo-Yo Gang by G.B. Jones (1992)