True Reality Rock Report
From ZineWiki
Jump to navigation
Jump to search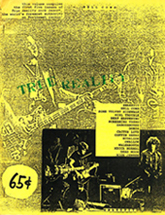 True Reality Rock Report is a zine by Mike and Al, published in Eugene, Oregon, U.S.A. in the late 1980's.
This publication covered the independent music scene in the Pacific Northwest. The zine includes interviews with bands such as Dangermouse (with zinester Donna Dresch), Girl Trouble, Hell Cows, Screaming Trees, Snakepit, and Fred (formerly of the 1960's bands The Lollipop Shoppe, and Weeds, and the 1970's bands The Rats, and Zipper) and Toody of Dead Moon. Also included are recording reviews, tour news, local gossip and band news. Bands covered include those interviewed as well as Beat Happening, Cactus Love, Coffin Break, Doris, Steve Fisk, The Go Team, Rich Jensen, Mecca Normal, No Means No, Mudslide, Pell Mell, Some Velvet Sidewalk, and Swallow.
Zines reviewed include Boysville U.S.A. by Jeffery Kennedy, Chainsaw by Donna Dresch, Matt Lukin's Legs by Joe Preston, Parkers Bark by Rebecca, Rock-a-bowl, Snipehunt by Michael H. King, Sand by Calvin Johnson, Some Velvet Sidewalk by Al and Robert, Someone Said by Tam, and Vicious Hippies from Panda Hell.
For issue six, the name of the zine was shortened to True Reality.