Boysville U.S.A.
From ZineWiki
Jump to navigation
Jump to search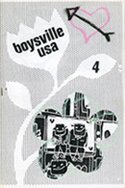 Boysville U.S.A. is a zine by Jeffery Kennedy, published in Olympia, Washington, U.S.A.
This zine first appeared in 1988 and was published till the end of that decade, with four issues released during that time. The first issues were photocopied full size pages stapled together; later issues were folded legal size pages.
Some topics covered in Boysville U.S.A. include The Partridge Family; an interview with Heather Conrad of Olympia band Sister Skelter; The Archies; Ann Margret's films; news about local bands like The Go Team, Lummi Hoops, Sister Skelter; "How To Be A Scooter Date", with scooter date do's and don'ts; Adam Block interviews musician Gary Floyd, singer of The Dicks and Sister Double Happiness; "The Smiths Convention" by Matilde Ruiz; artwork by Jim Dantzer; a comic by David Nichols; photos of ACT UP, James Dean, Patty Hearst, Ann Margret and Morrisey; and lots of record and book reviews and unusual news items.
Jeffery Kennedy also published Milquetoast. And he sang the song "Milquetoast Brigade" on the April 7" in the K Records band Go Team led by Tobi Vail and Calvin Johnson.
External Link