Doris
From ZineWiki
Jump to navigation
Jump to search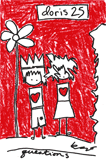 Doris is a perzine created by Cindy Crabb. It covers topics such as gender roles, sexual abuse, anarchism, depression, and the author's personal musings. The zine often features stick-figure drawings as illustrations. Twenty-nine issues have been released. Many issues are photocopied, although at least one was printed on newsprint, ranging in size from mini to half-legal.
Reviews of Doris have described it as a "renowned personal zine", with "language that evokes the intimacy and immediacy of journal entries or letters between close friends" (Library Journal). "This cut and paste perzine is honest, intimate and raw. ... Cindy conveys her struggles, whether they be psychological (as a survivor of abuse) or physical (trying to camp in the freezing rain), in a fresh and unself-conscious way." (Zine World)
Excerpts from Doris are included in The Riot Grrrl Collection, an anthology compiled by Lisa Darms, gathered from the archives of The Fales Library of New York University Riot Grrrl Archives, and published by The Feminist Press in 2013.
Doris was featured in volumes five, seven, and nine of Zine Yearbook. It is included in the Sarah Wood Zine Collection at Duke University.
Issues
#15: DIY Antidepression Guide (second edition published by Microcosm Publishing)
#19 was the beginning of Crabb's ABC series, with one or more articles written for each letter of the alphabet. Contents: A is for Anarchy, Anna, Abortion, Boats, Boogers, Books and Fanzines, But for the Kitchen Sink, Bugs, and Caty's Farm.
#22: Contents: I Remember, Interview with Frozen Inside, Interview about Feminism and Anarchism, Jokes aka Giggles & Gaggles, Justine, Just in Case: Emergency Contraception, Keesley Highschool.
#29: Contents: How I Quit Worrying and Learned to Love Being Queer, Peanut and Sassy, Voting, Fix a Tape, Brokeback Mountain, Athens Ohio Rock Camp for Girls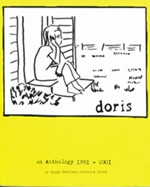 Anthologies
Doris: an Anthology 1991-2001 was issued by Microcosm Publishing in Portland, Oregon, USA. It contains most of the first eighteen issues.
The Encyclopedia of Doris was self-published by Crabb (funded by donations on Kickstarter). It contains issues 19-27 plus additional previously unpublished writing.
See also
External Links