Gunk
From ZineWiki
Jump to navigation
Jump to search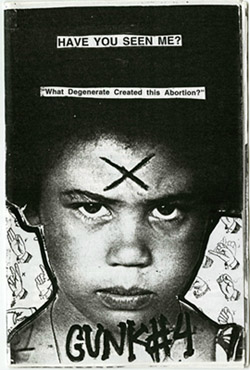 Gunk was a Riot Grrrl zine by Ramdasha Bikceem.
Gunk was published in New Jersey, U.S.A. Ramdasha Bikceem started Gunk in 1990, when she was 15 years old. It was focused on her skater girl gang and band of the same name. Ramdasha completed five issues of her zine, which focused on topics of race, feminism and general youth angst. Particularly in the last few issues of Gunk, Ramdasha wrote about the lack of diversity within the scene, and expressed her opinions around racial dilemmas and class conflicts within the Riot Grrrl movement.
In her zine, Ramdasha wrote about starting to skateboard;
"When I got my first skateboard I was probably around 12 years old. It didn't really occur to me at the moment that what I was doing was considered out of the ordinary for a lot of girls. But as I got older and started getting more into skateboarding, I realized what role most girls played when it came to skateboarding. Their role was to sit on the sidewalk while the rest of the boys were having a rippin' time. At first I tried to ignore and I even looked down upon these girls for not trying. I felt like nothing was stopping me, so why couldn't they give it a try? When I turned 14 years old my two best girlfriends also started to skate also. We were truly an awesome anarchic girl skate gang..."
She travelled to Olympia, Washington, and later her band performed at the first Riot Grrrrl convention in 1992 in Washington D.C.
Excerpts from Gunk were reprinted in the anthology The Riot Grrrl Collection, compiled by Lisa Darms from the Riot Grrrl Archives at Fales Library at NYU, and published by The Feminist Press in 2013.
External Links