Inner Circle
From ZineWiki
Jump to navigation
Jump to search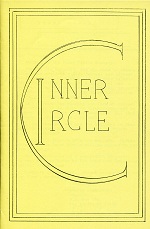 Inner Circle was a poetry zine edited by Walter Shedlofsky.
The first three issues were published in 1976.
Contributing poets included G. Sutton Breiding (Ebon Lute, The Punk-Surrealist Cafe), Lucile Coleman, Leah Bodine Drake, Steve Eng (as John Bredon), Michael Fantina, W. Paul Ganley (Eerie Country), Wayne Hooks, Harry Morris, Dirk Mosig (The Miskatonic), Jim Pianfetti, Wilum Pugmire (Midnight Fantasies, Old Bones, Visions of Khroyd'hon), Mark Rich (The Silent Planet, Treaders of Starlight), Jessica Amanda Salmonson (The Literary Magazine of Fantasy and Terror), J. Vernon Shea, Stephanie Stearns, Richard L. Tierney, Neal Wilgus, and others.