The Panic Button
From ZineWiki
Jump to navigation
Jump to search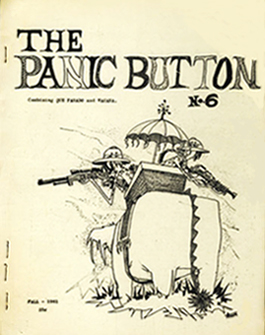 The Panic Button was a science fiction fandom fanzine by Les Nirenberg published in Toronto, Ontario, Canada.
Les Nirenberg was introduced to fandom and fanzines by Boyd Raeburn (A Bas) and P. Howard Lyons (Ibidem); all three were fans of jazz music. The Panic Button began publishing in 1960 out of Nirenberg's store, The Co-existence Candy Shop on Weston Road in Toronto. At least 16 issues appeared until it ceased publication in 1964. It had originated as the fanzine Que Pasado; with issue 5 it became Vahana. and with the 6th issue Nirenberg changed the name to The Panic Button. In its later issues it evolved from a fanzine to a semi-pro newsstand magazine by the 12th issue, but with the same writers, almost all of whom were fanzine editors.
Contributing writers included Greg Benford, F.M. Busby (Cry of the Nameless), Bill Casselman, Gary Deindorfer, Cal Demmon, Jerry DeMuth, Alan Dodd (Camber), Roger Ebert (Stymie), Colin Freeman (Scribble), Les Gerber, Rolf Gindorf, Jim Linwood (Typo), Barry Lord, Len Moffatt (The Outlander, Shangri L'Affaires), Ted Pauls, Richard Schultz (En Garde), Roy Tackett, Alan Trogg, Harry Warner, Jr. (Horizons), Ted White (Stellar), and Norm Clarke and Gina Clarke Ellis (Descant, Honque).
Contributing artists included Don Arioli, Arthur Thomson, and Skip Williamson, among others.
Les Nirenberg also did a one shot called Podium.
Ron Bennett, in Skyrack, called it, "A way out production" and "Fandom's leading Terse Commentary Fanzine". He went on to say, "Personally I enjoyed it, particularly Les's joke about not having the time to argue with Ted Pauls and then doing so for three columns". The Panic Button was characterized by Jim Linwood as "a strange hybrid of fandom and the 1960s Toronto hipster scene".
In 1964, Nirenberg transformed his magazine into "The Panic Button Review" comedy nightclub act in Toronto. Later he worked for the CBC, appearing in Quelque with Nick Auf de Maur, and then producing his own films and video productions, and making and appearing in films for the National Film Board of Canada, such as Les Quebecoise and A Star is Lost, and voices for animated films like The House That Jack Built, made in 1967. In 1987 he appeared in the film Adventures in Babysitting. Les Nirenberg died in 2010.
External Links