Honque
From ZineWiki
Jump to navigation
Jump to search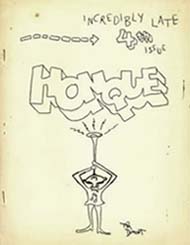 Honque was a fanzine published by Norm Clarke and Gina Ellis Clark in Ottawa, Ontario, Canada.
The first issue was released in Fall 1964, and was subtitled the "Fantastically First Issue". Issue two was subtitled the "Second Startling Issue", and five issues were released. It is considered to be a genzine.
Contributors included F.M. Busby (Cry of the Nameless), Gordon Eklund, Lynn Hickman (TLMA), Arnie Katz, Joe Pilati, "Willowdale Confidential", a column by Boyd Raeburn (A Bas), Thomas Perry (Quark), Steve Stiles, Roy Tackett, Harry Warner, Jr. (Horizons), and Paul Wyszkowski (Ergo Sum).
Art work was contributed by Tim Dumont, and Steve Stiles, among others.
Arnie Katz writes in Vegas Fandom Weekly #99 (2007);
Norm Clark and Gina Ellis (Clark) edited a fanzine that made up in non-stop hilarity what it may have lacked in refined and slick appearance. Norm's lurid tales of 'skree-honking' and the fine writing of both Gina and Boyd Raeburn guaranteed a good read, liberally punctuated by laughter.
Five issues were released. In 1967, Norm Clarke was nominated for a Hugo Award for Best Fan Writer.
Norm and Gina Clark also did the fanzines Descant, and Queebshots, with Boyd Raeburn.