The Fanscient
From ZineWiki
Jump to navigation
Jump to search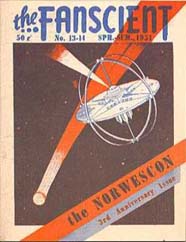 The Fanscient was a science fiction fanzine published by Donald B. Day in Portland, Oregon, U.S.A.
Doanld Day was a member of the Portland Science Fantasy Society and several of the members worked with Day on The Fanscient. The first issue appeared in 1947. The first two issues were mimeographed and then the fanzine was letter pressed from then on, till the end of its run in 1951 with issue 14.
The Fanscient, along with Fantasy Commentator and Fantasy Advertiser, are regarded by Harry Warner, Jr. as the fanzines that stand out in that era for their high quality fantasy and science fiction writing.
Each issue of the fanzine featured a particular author: issue 1 featured A.E. van Vogt, no. 5 focused on David H. Keller, and no. 8 on Robert Bloch, no. 9 on Robert Heinlein, no. 10 on George O. Smith, no. 11 on Theodore Sturgeon, no. 12 on Anthony Bloucher and no. 13-14 on L. Sprague de Camp. Many of these writers contributed their own biographies. Bibliographies were also included.
Contributors of writing included Forrest J. Ackerman (Voice of the Imagi-Nation), H.. Adams, James R. Adams, Eric Atlas, F. Lee Baldwin (The Star Rover), Philip Barker, Lambert Becker, D. Bruce Berry, Robert Bloch, Anthony Boucher, Ray Bradbury (Futuria Fantasia), Jim Bradley (Destiny), Henry W. Cabot, Lin Carter (Spaceteer), Thomas H. Carter (Spearhead), Stanton Coblentz (Wings), Edwin R. Corley, Forrest C. Davis, Dorothy De Courcy, John De Courcy, Carl Dumbleton, Miles Eaton, E. Everett Evans (Nova, The Timebinder, The National Fantasy Fan), Thomas S. Gardner, Robert Heinlein, J.M. Higbee, Neil R. Jones, David H. Keller, Herman Stowell King, Bill Kroll, Henry Kuttner, Thyril L. Ladd, Murray Leinseter, Russ Manning, H.T. McAdams, Len Moffatt (The Outlander, Shangri L'Affaires), Walter Pannell, Kingsborough Reedley, Darrell C. Richardson (The Fabulous Faust Fan-Zine), Jim Skrzynski, Ken Slater (Vector), Edward E. Smith, Norm Storer, Charles Stuart, Theodore Sturgeon, George Wetzel, and Jack Williamson.
Contributors of covers and illustration were by D. Bruce Berry, Hannes Bok, Lin Carter, Forrest C. Davis, Miles Eaton, O.G. Estes, John Grossman (Scientifantasy), Russ Manning (Fan Artisan), Ralph Rayburn Phillips, G. Waible.
External Links