Rambler
From ZineWiki
Jump to navigation
Jump to search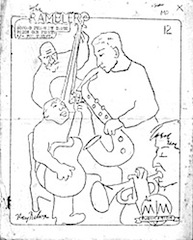 Rambler was a fanzine devoted to folk music published by Michael Moorcock.
Published in the UK from 1956 to 1958, Rambler began as Fantasy and Jazz Fan, then simply as Jazz Fan , and it was with issue 10 that the title became Rambler.
Five issues under the title of Rambler were released: issue 10 in January 1958, issues 11, 12 and 13 were released February 1958, and issue 14, the last, was published in March 1958.
Contributing artists included Jim Cawthorn, and Ray Nelson.
Contributing writers included Dave Aldridge, John Brunner (Noise Level), Bill Harry, Ray Nelson, and Sandy Sandfield.
Rambler was one of a handful of fanzines devoted to folk music that were published in the 1950s and 1960s, along with John Brunner's Noise Level from the UK; in the U.S.A.'s Lee Hoffman published the first folk fanzine Caravan, followed by Gardyloo; others followed such as The Broadside of Boston, The Little Sandy Review, The Songmakers Almanac, and Tune Up. In Ontario, Canada, Hoot and Sing and String, and British Columbia, Canada's Singalong!; later in the UK other folk music zines, such as Folk Scene in the 1960s, and Folks, in the 1970s and 1980s would appear.
Michael Moorcock also published the titles A Fanzine Called Eustace, Typo with Jim Linwood, and was one of the editors of Vector.