Gertrude Kuslan
From ZineWiki
Jump to navigation
Jump to search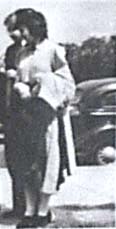 Gertrude Kuslan was a science fiction fanzine publisher from West Haven, Connecticut, U.S.A.
With her brother Louis, Gertrude "Trudy" Kuslan published a number of zines, beginning in the 1930s with The Nucleus. Eleven issues of The Nucleus were released, the first in July of 1938, and the last issue appearing in the mid 40s. The later issues of Volume 4 and 5 were edited solely by Trudy Kuslan.
At the same time fanzine editor James Taurasi, who was publishing a number of zines, handed over Cosmic Tales to Louis and Gertrude Kuslan, and they released issue 7 in October/November of 1938. The 8th issue was also published by the Kuslans, and was released in December 1938 with a cover by Taurasi. They remain the editors for the next four issues. A special issue, called Cosmic Tales Special appears in 1939; it is the "First World Science Fiction Convention Issue", and the cover announces that it is "Featuring Stories by Nils Helmer Frome, Cyril Kornbluth, and Percival Twinkletose", the last undoubtedly a joke. The last issue published by Louis and Gertrude Kuslan is Vol.2 No.1 the second anniversary issue of Cosmic Tales, released in Summer 1939.
1939 was also the year of the first Worldcon (New York City convention - Nycon 1939) , which both Louis and Gertrude attended.
In 1940, the two editors released The Miscellany, a one shot one sheet, mimeographed on both sides. In September of the same year, they published FAPA Review, another one shot and undoubtedly a publication for the Fantasy Amateur Press Association.
In 1941 Gertrude appeared on the cover of Bob Tucker's fanzine Le Zombie in a photograph with Paul Freehafer (Polaris), Bob Madle (Fantascience Digest), Erle Korshak, Ross Rocklynne, Walt Leibscher (Chanticleer), Date Tarr, Forrest Ackerman (Voice of the Imagi-Nation, Novacious), Julius Unger, Robert Thompson and Myrtle Douglas (Morojo) (Stephan the STFan, Voice of the Imagi-Nation, Guteto).
1942 finds "Gert" living in West Haven, Connecticut and traveling to Boston for the Second Annual Boston Science Fiction Conference (The Boskone) on Sunday, February 22nd. That same year Louis Kuslan enlisted for World War II.
In 1944, the last issue of The Nucleus appeared.
In 1947 it was reported that Gertrude attended "Philcon 1947", The 5th World Science Fiction Convention.
Zines
Contributions