The Sterling Web
From ZineWiki
Jump to navigation
Jump to search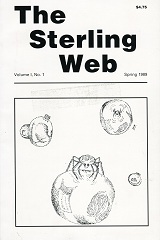 The Sterling Web was a genre zine edited by Ann Kennedy (now Ann VanderMeer), Buzzcity Press, and Amy K. Mann, Arachnid Publishing, from Tallahassee, Florida, U.S.A.
The first issue appeared in April 1989. By Winter 1991, six issues had appeared under this title when editor Amy Mann left, and Ann Kennedy changed the name to The Silver Web, and added the subtitle, "The Magazine of the Surreal". The fifteenth and final issue was published in January 2002. It was devoted to weird fiction and poetry, horror, fantasy, and science fiction.
Issue #1 included fiction from David Barker (Midnight Shambler), Tom Elliott, Charles Richard Laing, Erin Lale, Yvonne Navarro, Nikki Patrick, M.C. Peralta, and Robert Sagirs Jr.; and poetry by John Grey, Kevin Nowak, and Janet P. Reedman. Cover art was by Amy K. Mann, and interior illustrations were done by Cathy Buburuz (Champagne Horror).
Artwork for subsequent issues was contributed by Carlos Batts, Jill Bauman, Alan M. Clark, Janet Dupuy, Scott Eagle, H.E. Fassi, Rodger Gerberding, David Jones, Penelope Miller, Harry O. Morris, Cynthia Rako, and Phil Reynolds.
Contributors of fiction and essays included Daniel Abraham, Gary Archambault, Sam Atwood, Bill Babouris, Michael Bishop, Duane Bray, Poppy Z. Brite, Stephan Chapman, Alan M. Clark, Mary Elizabeth Counselman, F. Maitland Cutherbertson, Janes F. David, Thomas A. Easton, Liz Farrell, Chris Fox, Michael S. Gentry, Barry Hoffman, Don Hornbostel, Colin James, Valerie Johns, Marianne Johnson, Ike Keen, Jack Ketchum, T. Jackson King, Anke Kriske (Doppelganger), Joel Lane, D.F. Lewis (Nemonymous), Michelle Marr, Mark McLaughlin (The Urbanite), Yvonne Navarro, Carol T. Noble, Carol Orlock, Jeffrey Osier, Michael Peralta, Clark Perry, Tom Piccirilli (Epitaph), Jon Picciuolo, Cathryn Pisarski, Stephen Mark Rainey (Deathrealm), Octavio Ramos, Daniel Philip Read, Mark Rich (Treaders of Starlight, The Silent Planet), Claire Robson, John B. Rosenman, Ina Roy, Darrell Schweitzer, Vera Searles, Brian Skinner, Brian Stableford, Sue Storm, Bruce Taylor, Scott Thomas, Jeff VanderMeer, Bobby G. Warner, Joshua Waterman, J.N. Williamson, t. Winter-Damon, and T.M. Wright.
Contributors of poetry included E.P. Allan, Michael Arnzen, Jill Bauman, Tippi M. Blevins, Cathy Drinkwater Better, Eryc Bourland, Cathy Buburuz, Cliff Burns, Eddena Christian, Alan M. Clark, Devan Cook, F. Maitland Cuthbertson, David Conover, Holly Day, Peter Dean, J.W. Donnelly, Thomas A. Easton, Wayne Edwards (Palace Corbie), John Grey, Lois Marie Harrod, Chad Hensley, Glenna Holloway, Elizabeth Howwkins, Herb Kauderer, Scott Keeney, Charles Owen Lawson, David Lunde, Clay Martin, Genevieve Marault, Michael R. Morris, Martin Newell, Nikki Patrick, Fabian Peake, Simon Perchik, Walt Phillips, Kenneth Pobo, Jacie Ragan, Dan Philip Read, W.W. Read, Michael Robbins, Bret Robinson, Jessica Amanda Salmonson (Fantasy Macabre), Marge B. Simon (Star*Line), Steve Sneyd (Data Dump), Maryanne K. Snyder, Ian Randal Strock, Mark Tompkins, William John Watkins, Stanley Wiater, Sigmund Weiss, and Wendy Wheeler.
Also featured were interviews with Jill Bauman, Jonathon Carroll, Alan M. Clark, Scott Eagle, Harry Fassi, Rodger Gerberding, Jack Ketchum, Chris Lacher, Penelope Miller, Harry O. Morris, Stephen Mark Rainey, Phil Reynolds, and T.M. Wright.
Issue 7 featured a reprint of a short story by Charles Beaumont (Utopia) from 1957.
Ann Kennedy VanderMeer went on to become fiction editor for the revived Weird Tales, for which she won the 2009 Hugo Award, and then editor -in-chief. February 2012 will be her final issue as editor since the magazine was sold to new publishers.
External Links