After Hours
From ZineWiki
Jump to navigation
Jump to search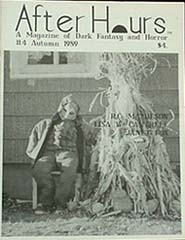 After Hours was a literary fantasy and horror zine by William G. Raley.
After Hours was first published in 1989 and continued on into the 1990s. Five issues of this title were published by Raley in California, U.S.A.
Featured were interviews with writers and editors such as Margaret L. Carter (The Vampire's Crypt), Mort Castle, Charles L. Grant, Chris B. Lacher of New Blood, Roberta Lannes, Tanith Lee, Robert McCammon, William F. Nolan (Rhodomagnetic Digest), and Elayne Wechsler-Chaput.
Contributors included Athena Andreadis, Craig Anthony, Greg Beatty, Stephanie Bedwell-Grime (Timeframe), Gary Braunbeck, Arthur William Lloyd Breach, Sean Brodrick, Donald Burleson, Margaret L. Carter, Mort Castle, R. Chetwynd-Hayes, Lillian Csernica, Don D'Ammassa (Mythologies), Mark Fewell, Paul Di Filippo, Kay Fortunato, Janet Fox (Scavenger's Newsletter), Jeffrey Goddin, Gregor Hartman, Jeff Hecht, Brian A. Hopkins, Tanith Lee, D.F. Lewis, Gregory C. Lowney, Elizabeth Massie, Yvonne Navarro, David Niall, William C. Orem, Stephen Mark Rainey (Deathrealm), Octavio Ramos, Jr., Katherine M. Ramsland, Dawn Riverside, Barbara Rosen, E. Rose Sabin, Darrell Schweitzer, Wade Shatford, David W. Taylor, Steve Rasnic Tem (Umbral), Tamara Thorne, James Patrick Ulven, Ralph E. Vaughan, Steve Vernon, Bobby Warner, Heather G. Wells, James A. Wells, K.D. Wentworth, and J.N. Williamson.
The stories "Ule", by Arthur William Lloyd Breach, and "The Last Show a Verdi's Supper Club", by Stephen Mark Rainey, are considered by Edward P. Berglund to be an integral part of the Cthulhu Mythos.
Also included were reprints of classic work by Ray Bradbury (Futuria Fantasia), and Harlan Ellison (Science Fantasy Bulletin)
Covers were by Charles S. Fallis, H.E. Fassl, David Goldner, Todd Graham, with the majority of them by Ruth Thompson, and with interior art work by Bradley K. McDevitt, Alfred R. Klosterman, Bucky Montgomery, and Alan Jude Summa.