Eydthe Eyde
From ZineWiki
Jump to navigation
Jump to search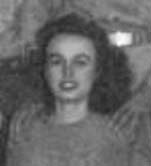 Eydthe Eyde, better known as Tigrina, and as Lisa Ben, is a fanzine publisher, writer and musician.
In the 1940s, Eydthe Eyde was well known in science fiction circles as "Tigrina", a name bestowed on her by her friend Forrest J Ackerman. She was a member of the Los Angeles Science Fiction Society, and a contributor to science fiction fanzines.
In June 1947, Eydthe Eyde published the first issue of Vice Versa, which is credited as being the first publication to appear devoted to lesbians. She typed each issue while at work as a secretary at RKO Studios using a carbon paper to make 4 copies, and then repeating the process to create 10 copies of each issue. Although not usually referred to as a "zine", Eyde was involved in the science fiction community of the day, so there is reason to believe she was following in this tradition. The cover consisted of only the title, typed directly in the center of an otherwise blank sheet of paper. She mailed the first issue to friends. When she learned it was illegal in the U.S.A. to mail any material about gays or lesbians, she delivered the zine by hand to readers.
Vice Versa consisted of book and movie reviews, science fiction stories by Eyde, and contributions by Forrest J Ackerman, editor of Voice of the Imagi-Nation. Nine issues were published. Eydthe Eyde stopped publishing in February 1958, only because she had lost her job at RKO Studios.
There were no names included in the publication at the time. Later, Eyde began writing for the lesbian periodical The Ladder and used the name Lisa Ben, an anagram of "lesbian", and this name was retroactively ascribed to Vice Versa. Much later, in the early 2000s, Eyde was accorded many honors as one of the pioneers of gay and lesbian journalism, and it was at this time that her real name, knowledge of her editorship, and Ackerman's involvement with the zine was finally made public by her.
As "Tigrina" she was the author of several stories in collaboration with Forrest J Ackerman, such as "The Lady Takes A Powder", which first appeared in the fanzine Inside in 1953; "The Girl Who Wasn't There", with Ackerman, William Nolan (Rhodomagnetic Digest), and Charles Fritch, which first appeared in Gamma in 1963. Both stories later appeared in the collection, The Science Fiction Worlds of Forrest J Ackerman. By herself, she wrote "Last Act: October" for Magazine of Horror and Strange Stories, edited by Robert W. Lowdnes (Vol.1 #4, 1964).
According to F. Towner Laney, writing in Spacewarp #36 (1950), various members of the LASFS were involved in the occult, including Arthur Joquel II and Tigrina: "Joquel asked Ackerman to give him Tigrina to use as the altar for his black mass. Ackie for some reason refused. Most uncooperative, especially when you consider that Tigrina too was a Satanist -- at least she said so in VOM."
This undoubtedly has something to do with the fanzine Hymn To Satan that Tigrina released around this time (University of California Riverside Libraries has a copy) that Arthur Joquel, in his fanzine Sun Trails, expressed an interest in orchestrating. Ironically, Laney published work by Tigrina in his own zine, The Acolyte, given his vitriolic expose of gays and lesbians in the LASFS entitled "Oh! Sweet Idiocy!", at a time when to be gay or lesbian in the U.S.A was illegal.
Zines
Contributions
External Links