Hoom
From ZineWiki
Jump to navigation
Jump to search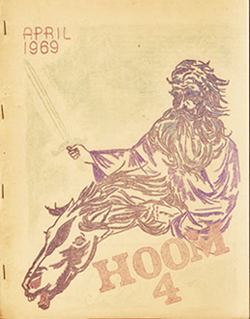 Hoom is a fanzine edited by Bee Bowman and Frank Denton, and published by the Wyver's Cave, Mukilteo and Michel Delving Ferry System Press.
Hoom was devoted to the works of author JRR Tolkien. The editors collaborated over a distance, with Bee Bowman in Waynesboro, Virginia, U.S.A., and Frank Denton in Seattle, Washington, U.S.A. The first issue was published in June 1968, with issue 2 following in September, and issue 3 in December of that same year. Issue 4 appeared in April 1969, and issue 5, the last issue, in Fall 1969. It was distributed through NAPA. Hoom included articles, essays, film and book reviews, fiction, poetry, art work, and letters.
Contributors of writing included Gerold Bishop, Kate Bowman, J. B. Drapkin, Tova Inpyn, Frederick Michael Lauritsen, Paul Novitski (also known as Alpajpuri, editor of Carandaith), Frances (Jack) Soruby, Patrick Strang, and Joe Zalabak.
Contributions of poetry came from John Closson with Paul Novitski, Michael Gilbert, Harriett Kolchak, Marie Laverty, and R.H. Racwain.
Artwork was by Bee Bowman, Ann Chamberlain, John Closson, Elaine J. Cooke, Frank Denton, Paul Novitski, and Joe Zalabak.
Letters came from Ann Chamberlain, Seth Dogramajian, Bob Foster, Dale A. Goble, Jr., Steven Lawrence Goldstein, George Inzer, Richard LaBonte (Hugin and Munin), Frank Lunney (Beabohema), Donald Markstein (NOLAzine), Paul Novitski, Larry Paschelke, Steve Rasnic (later editor of Umbral), Ed Reed, Kenneth Scher, and Harry Warner, Jr. (Horizons), among others. After Hoom, Frank Denton went on to publish Ash-Wing.