Vaginal Davis
From ZineWiki
Jump to navigation
Jump to search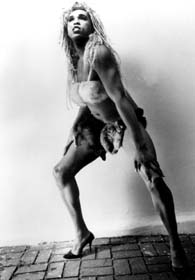 Vaginal Davis is an avant-garde performance artist, film director, musician and zine editor.
Her first zine was titled Fertile LaToyah Jackson, named after the drag queen of the same name. Her next zine, appearing in the early 1990s, was called Shrimp, named for the slang word for a sexual act involving feet. Her third zine was entitled Yes, Ms. Davis, which was released in the mid 1990's.She has also contributed to a number of seminal zines and is a writer for a number of publications.
She has performed with such artists as Margaret Cho, Beck and Lisa Carver and collaborated with performance artist Ron Athey and photographer Rick Castro. She has also made a number of films.
Vaginal Davis has had a noteworthy musical career. One of her first bands was Pedro, Muriel and Esther, or PME, whose most recent CD, The White To be Angry, was produced by Steve Albini. She was a founding member of Cholita! with Alice Bag (of the seminal 1970's punk band The Bags). More recently she and Joel Gibb, Jan Klesse, and Felix Knoke have formed a band in Berlin named Tenderloin.
Davis' name is an homage to the radical black feminist Angela Davis.
Zines
As Contributor
Films
External Links