Fertile LaToyah Jackson
From ZineWiki
Jump to navigation
Jump to search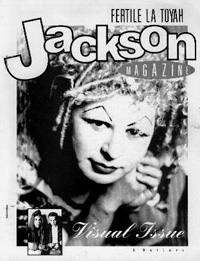 Fertile LaToyah Jackson is a zine by Vaginal Davis.
Fertile LaToyah Jackson was published in Los Angeles, California, U.S.A., and first appeared in the late 1980's, ending in the 1990's with issue five. Edited by Vaginal Davis, it also featured quotes from Fertile LaToyah Jackson, for whom the zine was named, and whose photo regularly appeared on the cover. Features of the zine included "What Fertile sez...people copy" which listed various catch phrases Fertile had invented, and "What makes Fertile mad?".
The zine also appeared in video (VHS) form, and became a nexus point for a small underground filmmaking community in L.A.
From the late Adam Block, "Scanning The 'Zine Scene", in The Advocate (1/30/90):
Fertile La Toyah Jackson Magazine: Scandalous, unhinged gossip, glamour tips, and self-promotion by a posse of black drag queens known as the Afro Sisters (who also perform as a band). Fertile is the cover girl, and Vaginal Davis edits. They rate bars and male strippers and offer their own "Queen's Glossary" when not offering dirt on teen Stars that the Hollywood Kids would never touch, even if they believed it. A veritable John Waters film of a skinny 'zine.
See also
External Link