Three Dollar Bill
From ZineWiki
Jump to navigation
Jump to search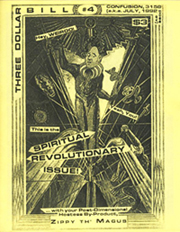 Three Dollar Bill was a zine by Deke Nihilson and Clay Cadic.
Published in San Francisco, California, U.S.A. in the early 1990's, Three Dollar Bill was the successor to Deke Nihilson's earlier zine Homocore, which was co-edited by Tom Jennings.
Unlike the earlier zine, this publication was a photocopied, cut and paste publication. It included a mix of topics including anarchism, Discordianism, and queer punk rock and zines.
Issue one featured the band Tribe 8 on the cover and an interview inside, along with articles on Fat Oppression, Herbal Abortions, the Radical Faeries, a piece by the Devil's Advocate, as well as reviews of books, recording and zines. Contributors included Omeweene Grimstone and Dawn of Aquarius, Jose Mari, Brian Norris, P. Paula P., Judith A. Stein and Harry Wassweman. Zines reviewed in this issue included Bikini Kill, Bimbox, Chainsaw, Love and Rage, Mo-Funk, Taste of Latex and Too Many Closets.
The cover of issue two featured a photo from the "Rights Nights" riots of 1991, which had been released by police in an attempt to identify rioters, and is accompanied by the message "If you must tell, say why, so we know what to write on your tombstone", a lyric from a Nation of Ulysses song. This issue features articles on the Stonewall Riots, First Amendment issues, rape, Youth Power, International Anarchist Congress in Mexico, and reprints of articles from Jigsaw on "Love Rock" by Al Larsen and Kathleen Hanna, pieces by the Devil's Advocate, artwork, comics and reviews of books and recordings. Issue two also included contributions by Harold Beard, Ryan X. Rubio, Adam Seller, Greta Shred, and Verdi. Zines reviewed include Agony, Boy With Gun, Girl Germs, Holy Titclamps, J.D.s, Jigsaw, Mudflap, Special Offer!, Tantrum and Up Our Butts.
Also on the cover of issue two was the message "BANNED by Maximum Rock 'n' Roll". Inside the cover is the brief explanation that Tim Yohannan has banned Three Dollar Bill from advertising in Maximum Rock 'N' Roll because editor Nihilson had brought to light issues about homophobia in the San Francisco punk scene.
Issue Three featured an alternative title on the front cover. For this special issue the title was Riot Gear. The focus of the issue was on Riot Grrrl. This issue is included in the Sarah Wood Zine Collection at Duke University Library and in the Sophia Smith Collection at Smith College.
External links