Holy Titclamps
From ZineWiki
Jump to navigation
Jump to search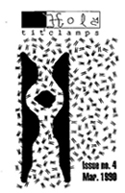 Holy Titclamps is a zine published by Larrybob.
In her book DIY: The Rise Of Lo-Fi Culture, writer Amy Spencer talks to Larrybob about the beginnings of Holy Titclamps in 1989. Larrybob says, "I was living in Minneapolis and in 1988 I found out about zines like Homocore and J.D.s. I'd been into punk rock, and I was out as gay, but didn't know many other people who shared both those interests. Those zines showed it could be done, but nobody else in my town was doing it." So Larrybob did.
Holy Titclamps was published in Minneapolis up until issue nine; after that Larrybob relocated and began publishing from San Francisco. There have been many contributors to Holy Titclamps so far; these include the writers Steve Abbott; Don Bapst; Lawrence Ytzhuk Braithwaite; C. Bard Cole, editor of Riot Boy; Robert Gluck; Sarah Schulman; Glen Sheldon; Donny Smith, editor of Dwan; Michelle Tea, editor of Bitch Queen; Joe Westmoreland; REB, editor of Fanorama; and comic artists Robert Kirby, Diane DiMassa, Robert Triptow, Quetzal, and Nick Leonard. The zine also included interviews such as the one with Tomata du Plenty of The Screamers, and the band Go! featuring Mike BS, who was also editor of the zine Bullshit Monthly. The last issue published was #19 in 2003.
Holy Titclamps was featured in the Factsheet Five Zine Reader and was one of the zines included in the 2003 tour of North America by the travelling library of independent publications, Mobilivre-Bookmobile.
The zine is also included in the West Coast Zine Collection at San Diego State University.
Holy Titclamps also included a great many reviews of zines. There were so many zines reviewed that eventually the review section became a supplement entitled Queer Zine Explosion and finally was issued separately from Holy Titclamps.
External Links