The Monthly Monthly
From ZineWiki
Jump to navigation
Jump to search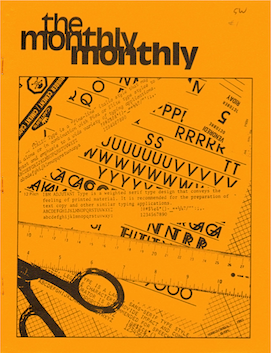 The Monthly Monthly was a science fiction fanzine published in Edmonton, Alberta, Canada.
The Monthly Monthly appeared in October 1980, with six editors at the helm. Rosanne Charest, Michael S. Hall (1955-2008), Christine Kulyk, Robert Runte, David Vereschagin and Bob Weir all contributed and took turns editing the issues.
In his Canfanhistory, Garth Spencer talks about how the fanzine came into being, "Dave Vereschagin, John Durno, Robert Runte and Christine Kulyk started a highly active group called the Gang of Four (later including Randy Reichardt and Michael Hall), "because they agreed so well on the intellectual outlook on life", Michael Hall writes. "Later I was added, along with Rosanne Charest when I started seeing her and Bob Weir because 'he was Robert's friend'. Randy Beichardt was an ex-officio member..." And they put out The Monthly Monthly."
The first issue was edited by Christine Kulyk. Cover artwork was by David Vereschagin. The second issue was edited by David Vereschagin, with cover art also by him.
Aside from the editors, contributing writers included Doug Barbour, Bill Beard, who wrote the regular column, "Stuttered Motion", and Taral Wayne (DNQ), whose contribution in issue #9, "I Can Always Dream" was later included in the anthology Toronto the Ghood.
Contributing artists included T.S. Bradshaw, Grant Canfield, John Durno, Bill Gibson, A. Hakke, David Vereshcagin, and Taral Wayne.
Issue 2 featured an interview with Eli Cohen, editor of Kratophany.
12 issues were published, until the first year anniversary month was missed. After that, it became The Bi-Monthly Monthly, and two more issues were releases; issue 13 in November 1980, and the final issue, 14, in January 1981.
Greg Pickersgill included The Monthly Monthly in his list of "Fave Fanzines of the Eighties", posted to Memoryhole, and wrote, "Really a monthly - incredible. I never saw this at the time but got a set via the MH project. I like it because it's a real sort of old-fashioned fanzine, not a personalzine, not a fiction zine, not even really fannish. It's the sort of serious-minded with humour thing that might have been published in the Thirties or Fourties, when Fans Had A Mission. A sort of Science Fiction Fan for our times. I really recommend it."
David Vereschagin and Robert Runte were also two of the many fluctuating editors of Neology. After The Monthly Monthly, Robert Runte edited New Canadian Fandom from 1981 till 1985, published by Michael Hall.
External Links