The Burning Times
From ZineWiki
Jump to navigation
Jump to search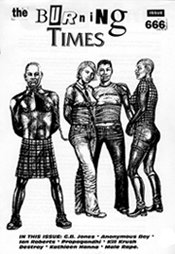 The Burning Times (February 1995-?) was a queer punk zine published in Australia by Richard Watts.
The first issue of The Burning Times came out in February of 1995, and six issues were subsequently released. The zine featured interviews with bands such as Pansy Division, De-Regulator, Tedium, Mouthful, Tuff Muff, Kill Krush Destroy, and Propaghandi; musicians such as Matt Thomas of the band The Mavis's, Wally Gunn of Sickbay, Chris Debono of Silpheed, and Skin of Skunk Anansie; and personalities such as Kathleen Hanna, G.B. Jones and Anonymous Boy.
The zine also covered events such the Dirtybird Queercore Festival in San Francisco, California, U.S.A., the Annual Melbourne Punk Pub Crawl, reviews of shows, and recordings, and personal writings and editorials on topics like coming out, punk's queer past, queer heroes, body image, male rape and bisexuality. Contributors included Gordon Ainger, Chris Dazed, George Dread, D'metri Kakmi, Dean Kiley, Will Kill, Lee Kirk, Michelle Nelson, Riki Revolutskaya, B. Streader, Jacinta Toomey, Christos Tsiolkas, Loki Unsworn, and Ben Zipper. The zine also featured artwork by artists Anonymous Boy, Jennifer Camper, Flea, Tim Growcott, G.B. Jones, Carrie McNinch, and Daniel Teague.
Each issue also included reviews of zines such as The life and times of Mavis McKenzie, The Assassin and The Whiner, Aunt Franne, Dazed and Swarming, Embryo, Grot Grrl, Hellcats, Krakatoa, The Miraculous Indulgement of the Hairball Goulash, Mother Earth, Ms.45, Outpunk, PMS, Prong, Psychobabble, Queer Zine, Sekhmet, Spammy, Speed Demon, Subversive Behaviour, Sure, Survival, Thunderpussy, Vilification of Venus, Where Were You In '77?, and You're So Hideous.
Although international in scope, the zine as well provided a valuable snapshot of the queer, punk and independent music scenes in Australia in the 1990's.
Print run: 300 per issue
Format/size: Photocopied A4 cut and paste, around 50 pages per issue
References
Warning: Default sort key "Burning Times" overrides earlier default sort key "Burning Times, The".