Aunt Franne
From ZineWiki
Jump to navigation
Jump to search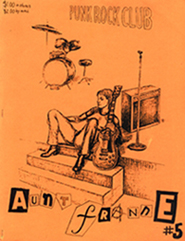 Aunt Franne was a punk zine created by Anne Franne.
Published in New Jersey, U.S.A., this cut and paste, photocopied zine ran from 1995 till 1997, during which time five issues were produced, each with a different colored cover featuring artwork done by different artists each issue. The focus was mainly on punk music of all kinds; older punk, hardcore, queercore and punk by girls. Contributors included Anonymous Boy, Aunt Betty, Beth Loudmouth, B-Face, G.B. Jones and Donnie Switchblade. Bands and musicians interviewed include A.D.A., Lone Wolves, Red Aunts. The Rickets, The Riverdales, The Sinister Six, Teen Idols, Tribe 8 and Ben Weasel. Events covered include the Dirtybird Queercore Festival in San Francisco and Homocore Chicago. There were plenty of zine and record and show reviews in every issue, balanced by editorials and Donnie Switchblade's regular, if contentious, column that often provoked the readers of Aunt Franne.
Aunt Franne was featured in Volume Two of 1997's Zine Yearbook.
External links