Ish
From ZineWiki
Jump to navigation
Jump to search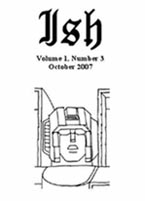 Ish is a fanzine from Felicity Walker.
Ish is published somewhat annually in Richmond, British Columbia, Canada. It appeared in the 2000s, issue 2 being released in October 2006, issue 3 in October 2007, issue 4 in April 2008, and the fifth issue published in October 2008.
Ish features reports on conventions, such as Canzine, and VCON, B-movies, book and comic reviews, articles, artwork, and letters.
Guest editor for issue 4 was Garth Spencer, editor of The Royal Swiss Navy Gazette. Contributions of writing have come from Michael Bertrand, Julian Castle, and Taral Wayne (DNQ).
Contributions of art work have come from Robin Bougie (Cinema Sewer), Ray Larabie, Lord Mobius, Vince, and Felicity Walker.
Letter of comment have come from Lloyd Penney (Torus), John Purcell (Askance), and Jan Stinson (Peregrine Nations, Steam Engine Time).
Felicity Walker is also the editor of BCSFAzine.
External Link