Cristy Road
From ZineWiki
Jump to navigation
Jump to search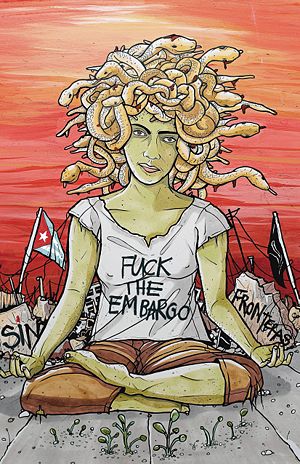 Cristy Road is a Cuban-American zinester and graphic artist originally from Miami and living in New York. She wrote the perzine Greenzine and has published a series of books and graphic novels.
In 2012 she released Spit and Passion (Feminist Press), a graphic novel about surviving the pre-teen closet amidst a homophobic society. Road's prior books include Indestructible (Microcosm Publishing, 2006), Bad Habits (Microcosm Publishing, 2008), and Distance Makes The Heart Grow Sick (Microcosm Publishing, 2007).
Greenzine began in 1997 as a Green Day fanzine, but gradually became a perzine about Road's various homes of Miami and Philadelphia, racism in her communities, the strength of her friends, coming to terms with assault, gender, sexuality, and identity and more. The final issue, #14, was published in 2004.
In 2005 Greenzine, and Road's artwork, were featured in the San Francisco art exhibition The Copyist Conspiracy: An Exhibition of Zine Art. Road's artwork was also featured in the exhibition No Need For Sleep: an exhibition of visual art by zine makers and the zines they produce, which was first mounted in Madison, Wisconsin in October of 2006 and then traveled to Milwaukee in November, 2006.
Road has contributed her illustrations to a number of zines and books, notably Support, Razorcake, Maximum Rock'N'Roll, Pressed Between the Pages, and My Mother Wears Combat Boots: A Parenting Guide for the Rest of Us. She frequently does artwork for high profile radical and feminist magazines like Jane, Left Turn, Bust, Bitch, and The Progressive, organizations such as the Young Women's Empowerment Project and Homoground, plus cover art for several punk albums. In 2012 she participated in the POC Zine Project (People of Color); the Race Riot! Tour, a tour of zinesters of color; and Sister Spit: The Next Generation, an all-queer spoken word road show. As well, she has participated in the Zinester Podcast program, reading her work, and is creating art for a tarot deck with Michelle Tea. She also plays guitar and sings in the punk band The Homewreckers.
Road graduated from the Ringling School of Art and Design in Sarasota, Fla., in 2004 and attended Moore College of Art and Design in Philadelphia.
Zines
Books
Contributions to Zines & Other Publications
External Links