Bitch
From ZineWiki
Jump to navigation
Jump to search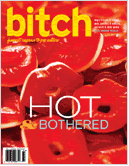 Bitch is a magazine, started by Andi Zeisler and Lisa Jervis, currently published by Debbie Rasmussen. Bitch attempts to talk to young women about gender issues in a language they understand1.
Bitch was founded in 1996 in response to "post-feminism" by "freshly minted liberal arts graduates with crappy day jobs and a serious media jones." Bitch has been called "one of the best-written and edited girl-centric zines around" by Spin Magazine.
BITCHfest: Ten Years of Cultural Criticism from the Pages of Bitch Magazine was published in August 2006 by Farrar, Straus and Giroux. The 400 page book, with an introduction by comedian Margaret Cho, pulls together a collection of articles and criticisms from the first ten years of the magazine.
An interview with Lisa Jervis about Bitch is featured in the book DIY: The Rise Of Lo-Fi Culture by Amy Spencer.
References
10 years, and feminist 'zine keeps on dishing it out, The Mercury News, Oct. 15, 2006
External Links