Spit and Passion
From ZineWiki
Jump to navigation
Jump to search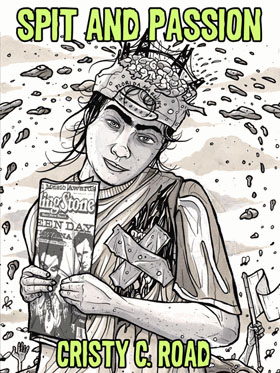 Spit and Passion is a graphic novel written and illustrated by Cristy Road, published in 2012 by Feminist Press.
The auto-biographical book depicts Road's pre-teen years in a Cuban Catholic family, as she comes to terms with her homosexuality and discovery of punk music. As described by Feminist Press[1]:
At its core, Spit and Passion is about the transformative moment when music crashes into a stifling adolescent bedroom and saves you. Suddenly, you belong. At twelve years old, Cristy C. Road is struggling to balance tradition in a Cuban Catholic family with her newfound queer identity, and begins a chronic obsession with the punk band Green Day. In this stunning graphic biography, Road renders the clash between her rich inner world of fantasy and the numbing suburban conformity she is surrounded by. She finds solace in the closet—where she lets her deep excitement about punk rock foment, and finds in that angst and euphoria a path to self-acceptance.
The book received a positive review in Publishers Weekly[2] and was recommended by Entertainment Weekly. (citation needed)
References