The H.P. Lovecraft Fanzine
From ZineWiki
Jump to navigation
Jump to search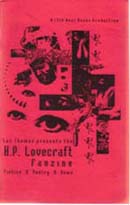 The H.P. Lovecraft Fanzine was edited by Les Thomas and published by 13th Hour Press in Alexandria, Virginia, U.S.A..
The full title of the zine was Les Thomas presents the H.P. Lovecraft Fanzine. It was a literary zine devoted to the weird fiction writer H. P. Lovecraft and his Cthulhu Mythos, published in the 1990s, and contained fiction, poetry and news.
Contributors included David Barker (Midnight Shambler), Sutter Cane, Lee Clark, Craig Cortright, Allen Koszowki, D.F. Lewis (Nemonymous), George Meredith, John Newt, Wilum Pugmire (editor of Midnight Fantasies, Old Bones, and Visions of Khroyd'hon), and Stanley Sargent.