Myrddin
From ZineWiki
Jump to navigation
Jump to search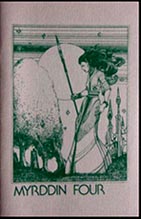 Myrddin was a fanzine edited by Lawson W. Hill published by Myrddin Press in Northbrook, Illinois, U.S.A.
Myrddin was focused on fantasy, science fiction and the supernatural in the form of fiction, poetry, art, and articles. The first two issues were published in 1975, and the third in 1976. The fourth issue was published in Chicago, Illinois in 1978. The fifth issue appeared in 1980.
Contributors included Martin Bickman, Joseph Payne Brennan (Macabre), Ramsey Campbell, Kenneth W. Faig, Jr., T.E.D. Klein, Lois Larson, Fritz Leiber, Dirk W. Mosig (The Miskatonic), H. Warner Munn, Wilum Pugmire (Midnight Fantasies, Old Bones, Visions of Khroyd'hon), Keith Richmond, Jessica Salmonson (The Literary Magazine of Fantasy and Terror), Darrell Schweitzer and Richard L. Tierney.
Contributions of artwork were by A.B. Cox, Patricia Gehrmann, Lawson Hill, Lance Howlett, Jim McLeod, Phil Normand, and Jim Pitts.
Issue three centered on the First World Fantasy Convention, held in 1975 in Providence, Rhode Island, home of H. P. Lovecraft, with seven pages of photos of the attendees. This issue came complete with a white envelope on the inside back cover containing a flexisdisc (or soundsheet) recording of Robert Bloch speaking on one side and Frank Belknap Long on the other, both men guests of honor at the convention, speaking at a panel with fantasy and horror authors about how they came to write fantasy and supernatural fiction.
External Link
The master tapes used to produce the Myrddin flexible disc can be accessed at this link.