Laughing Osiris
From ZineWiki
Jump to navigation
Jump to search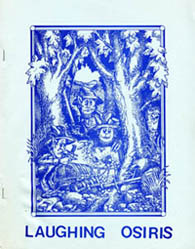 Laughing Osiris was a science fiction and fantasy fanzine by Arthur Metzger.
Co-editors of Laughing Osiris included Reed Andrus (Harbinger), Leo Borgman, and Rita Deering (then Borgman). Published in Cincinnati, Ohio, U.S.A. in the 1970s, two series ofLaughing Osiris were released. The first series appeared in 1974 and 1975, during which time 6 issues were published. The second series followed in 1978, with four issues published.
Contributors of articles included Reed Andrus and Lou Tabakow. Columns were by Don Ford, and Jodie Offut, among others. Contributors of reviews included Leo Borgman, Don Carter, and Rocky Karlage.
Included also was the story "The Ship That Sailed To Mars" by William Timlin.
Contributions of art work came from Dan Britt, Ray Garcia Capella, Terry Jeeves (ERG, The Damned Patrol), Bea Mahaffey, Mike Roden, and Mike Streff (Quantum) (cover for #2).
Interviews with Robert Bloch, Gordon R. Dickson, and Ted White were featured.
Letters came from Robert Bloch, Frank Denton (Ash-Wing), Buzz Dixon, Mike Glicksohn (Energumen, Xenium), Dirk W. Mosig (The Miskatonic), Charlotte Proctor (Anvil), John Theil, and Harry Warner, Jr. (Horizons).
Arthur Metzger also published the fanzine The Eltdown Shards for the APA Esoteric Order of Dagon.