Jane Gets A Divorce
From ZineWiki
Jump to navigation
Jump to search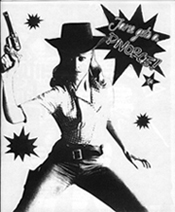 Jane Gets A Divorce was a one shot zine created by Jena von Brucker and published in Toronto in the 1990's.
Subtitled "Reinventing Jane", the contents of this cut and paste zine included features on Leslie Gore and Lois; touring with Fifth Column; "Celebrity Make-overs"; "Fightin' Gals", a centerfold article on girls with guns; an interview with drummer Torry Colichio; photos of G.B. Jones, Donna Dresch and A.K. Summers of nega-tiva zine wearing boxing gloves; and the article "Mankiller (real quotes from real man-huntin' bitches)".
Jane Gets A Divorce also included the quiz "What Has He Done For You Lately?" a humorous questionaire for women about the advisability of living with gay male roommates. This article was reprinted in Outpunk, which devoted issue six to articles from notable zines the editor deemed influential.
Jane Gets A Divorce was also profiled in Slut Magnet zine.
Jena von Brucker also was the co-editor of the zines Jane and Frankie and Double Bill.