Cyaegha
From ZineWiki
Jump to navigation
Jump to search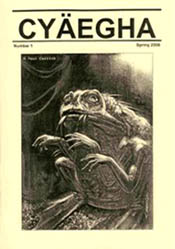 Cyaegha is a literary small press publication edited by Graeme Phillips and published in the UK. Each issue is numbered and between 75 and 100 copies of each are printed.
The word 'Cyaegha' comes from the short story "Darkness, My Name Is" by Eddy C. Bertin (Dunwich Dreams). Cyaegha is devoted to weird fiction and horror stories, with a special emphasis on the Cthulhu Mythos of H. P. Lovecraft.
The first issue was published in Spring 2008, and 15 issues in total have been published so far. Most issues are themed around a single subject and these include Eddy C. Bertin, Vol Molesworth, Dutch / Flemish Authors, Swedish Authors, and The King in Yellow.
Contributors of fiction include Martijn Adelmund, Cornelis Alderlieste, David Barker (Lemurian, Midnight Shambler), Eddy C. Bertin, Jaap Boekestein (Waen Sinne, Wonderwaan), Aaron Besson, Cardinal Cox, Frank Daman, Nieske den Heijer, Bobby Derie, David Edwards, Murray Ewing, Anders Fager, Fredrik F.G. Granlund, Boris Hurtta, Mike Jansen, Mark Howard Jones, David C. Kopaska-Merkel, Jan J. B. Kuipers, Remco Meisner, Vol Molesworth, Chantal Noordeloos, Marcel Orie (Wonderwaan), Auke Pols, Robert M. Price (Crypt of Cthulhu), Joseph S. Pulver, Wilum Pugmire, Julien C. Raasveld, Mark J. Ruyffelaert, Tais Teng, John Scott Tynes, DJ Tyrer, Don Webb, and Neal Wilgus.
Contributors of poetry include David Barker, Eddy C. Bertin, Leigh Blackmore (Mantichore), Cardinal Cox, DS Davidson, Liam Garriock, Wade German, Chad Hensley, Roger Johnson, Charles Lovecraft, Atsushi Nakazawa, Kyle Opperman, Fred Phillips, Thom Ryng, Ann K. Schwader, Richard L. Tierney, DJ Tyrer, Hugo van Calenbergh, and Neal Wilgus.
Contributors of non-fiction include Martin Andersson, Rickard Berghorn, Eddy C. Bertin, Jaap Boekestein, Andrew Coulthard, Bobby Derie, James Doig, Kenneth W. Faig, Jr. (Moshassuck Review), Roelof Goudriaan (Wonderwaan), Paul Harland, Mark Howard Jones, Sheila Merritt, Vol Molesworth, Stefan Nordin, Marcel Orie, DJ Tyrer, Paul van Leeuwenkamp, Remco van Straten (Waen Sinne), and Peter A. Worthy (Al-Azif).
Contributors of artwork include Jonas Anderson, Leon Atkinson, Toren Atkinson, Eddy C. Bertin, Michael Bukowski, Paul Carrick, Greg Chapman, Dave Felton, Art Grafunkel, Tom Hubble, Daryl Hutchinson, Allen Koszowski, Nicolas Krizan, Steve Lines, Richard Svensson, Stanley C. Sargent, Tais Teng, Jason Thompson, John Scott Tynes, and Remco van Straten.
Cyaegha is included in the apazine Esoteric Order of Dagon Mailings.
External Links