Colouring Outside The Lines
From ZineWiki
Jump to navigation
Jump to search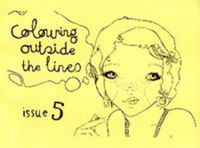 Colouring Outside The Lines is a UK zine published by Melanie Maddison featuring interviews with contemporary female artists; illuminating various corners of current female artistic and creative activity.
"Here were girls encouraging each other, directly and indirectly, to put their ideas into the world."
Issue 1
Published in August 2005, Issue #1 featured interviews with: Lisa Petrucci, Guerrilla Girls, Ariel Schrag, Juliet Martin, Gina Garan, Jeremy Dennis, Elizabeth McGrath, Nikki McClure, Lady Lucy, Jacinta Bunnell, Allison Cole, Dame Darcy, Kathleen Lolley, Isy, Tara McPherson, Cat Mazza, Jill Emery, Missy Kulik, Debbie Dreschler, Shelley Sacks, Wynne Greenwood.
Issue 1 is available from Manifesta Distro, Here (Bristol), [OK Comics (Leeds), Roku Distro (Todmorden), Sister George Distro (Leeds), Basement Bookstore (Manchester), Bluestocking Books (New York) and eBay.
Issue 2
Published in August of 2006, Issue #2 features interviews with: Vanessa Davis, Yoko Kikuchi, Cristy Road, Jean Smith, Colleen Coover, Marion Peck, Nicole Steen, Sarah Dyer, Simone Lia, Alison Bechdel, Penny Van Horn, Renee French, Sarah Utter and artwork by artists from Sweden, UK, France, USA, China, Italy, Hong Kong, Japan and Belgium.
Issue 2 is available at OK Comics & the Manifesta distro.
Issue 3
(May 2007), Features interviews with: Leia Bell, Nicole J Georges, Genevieve Castree, Juliana Luecking, Ozge Samanci, Ellen Forney, Karen Constance, Elena Stoehr, Liz Adams, Erika Moen, Karolina Bang, k8 Hardy, Jen Corace, Phoebe Gloeckner, and Gina Birch. + Cover artwork by: Elke Donders, and Erika Moen. + gallery artwork from artists based in the UK, USA, Iceland, Germany, The Netherlands, Japan, Canada, Sweden, Italy, Australia, Turkey & Poland.
Issue 4
(A4, 60 pages) Includes artwork and interviews from: Rachel Crans, Lizz Lunney, Enid Crow, Meghan Murphy, Sarah Maple, Allyson Melberg, Maya Hayuk,Sara Rahbar,Tara Jane O'Neil and Leonie O'Moore. Cover artwork by: Eliza Lazy/Sarah Maple (front) and SALUTE! (back)
Issue 5
(July 2009) Featuring interviews and artwork with: G.B. Jones, Mel Stringer, Caitlin Shearer, Abigail Brown, Morwenna Catt, Heidi Burton, Helen Musselwhite, Christa Donner, Karoline Rerrie and Erika Lopez.
Issue 6
(December 2013) This issue This issue features interviews with Lauren Denitzio, Fly, Megan Kelso, Chandler O'Leary and Jessica Spring, Allyson Mitchell, Caroline Paquita, Summer Pierre, Lindsay Starbuck, and Anke Weckmann.
Melanie Maddison also publishes the zine Shape and Situate.
Contact
email: m_k_maddison@hotmail.com
External Links