Carefully Sedated
From ZineWiki
Jump to navigation
Jump to search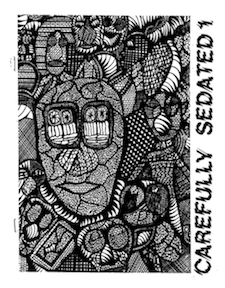 Carefully Sedated was a science fiction fanzine by Catherine Crockett and Alan Rosenthal.
Carefully Sedated was published in Toronto, Ontario, Canada. The first issue appeared in April 1983, and the last issue, 4.5, in August 1986.
The two editors both wrote editorials, accompanied by writing contributed by Robert Atwood, John Berry (Pot Pourri, The Damned Patrol), Andre Lieven, Do-Ming Lum, D.A. Rafferty, Roldo, David Sablowski, Taral Wayne (DNQ), and Bard Dwire. The article, "Tune In, Turn On, and Fall Out" by Taral Wayne was later reprinted in WCSFAzine.
Contributors of artwork included Peter Gottlieb (cover #1), Roldo (cover #2), Al Sirois (cover #3), and Taral Wayne (cover #4). Interior artwork was by Steve Fox, Peter Gottlieb, Roldo, Bobby Star with Roldo, and Taral Wayne.
Letters came from Harry Andruschak, Mike Glicksohn (Energumen, Xenium), Anne Laurie Logan (Harlot), Marc Ortlieb (Q36), and Walt Willis (Hyphen).
Later, Catherine Crockett, with Colin Hinz, published the fanzine Twenty Three Skidoo.
External Links