Beyond Antares
From ZineWiki
Jump to navigation
Jump to search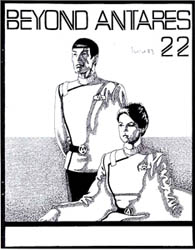 Beyond Antares was a media science fiction fanzine edited by Susan Smith-Clarke and Joanne Keating and published by Astrex Star Trek Club Clarke and Keating Ink/R & S Publications.
Beyond Antares was released in Faulconbridge, N.S.A., Australia. It was for a long time the official fanzine of the club Astrex. It became one of the longest running Star Trek publications in Australia. It was published from 1975 till 1993. Each issue was between 30 and 40 pages and featured fiction, poetry, art, and reviews. 36 issues were produced. In 1992, a special 20th Anniversary issue was published, with a colour cover, 200 pages, a complete index and cross reference to all previous issues of Beyond Anteres.
Contributors of writing included Susan Amies, Betsi Ashton, C.M. Barkley, Jenny Bozovic, Sue Bursztynski (Tales from New Wales), Ruth Collerson, G.J. Christison, Patricia De Voss, Ruth Dick-Smith, Narrelle Harris (Inconsequential Parallax, Phoenix)), Ann Hart, Edwina Harvey (later editor of The Australian Science Fiction Bullsheet), Christine Hawkins, Bill Hupe, George Ivanov, Julie Johnson, Eden Kane, Stephanie Kane, Linda Knorr, Adrienne Losin, Jackie Marshall (Space Rat), Linda McCarthy, Ian McLean (Sons of Kiron III), Tim North, Rosyln Patterson, Margaret Pitcher, Marianne Plumridge, Adam Saliba, Helen Sargeant, Teresa Sarik, Frankie L. Seymour, Dyanne Sharp, Susan Smith-Clarke, L. Tristy Spence, Patricia Splite, John Vassila, Ruth Waters, Roslyn von Werstak, Josephine Wenck, and Bev Wright.
Contributors of art work included Randy Ash, Alison Bloomfield, Lana Brown, Ruth Dick-Smith, Ted Engelbart, Lana Fahey, Dorinda Francis, Russell Grey, Harvey Kong Tin, Esther Mace, Diane Marchant, Shayne McCormack (Terran Times), Michael McGann, Ian McLean, John Parks, R. Paterson, Marianne Plumridge, Val Rogers, Elsie Sager, Igor Spajic, Girija Tenneti, Kamuc Tenneti, Julie Townsend, and Ruth Waters.
Covers were by Susan Campbell, Susan Crites, Diane Marchant, Marianne Plumridge, Gary Rawlings, Elsie Sager, and Robin Walker.
Beyond Anterres is included in the Susan Smith-Clarke Zine Collection at The National Library of Australia.
Susan Smith-Clarke also published the fanzines Chronicles and Medtrek.
External Links