Space Rat
From ZineWiki
Jump to navigation
Jump to search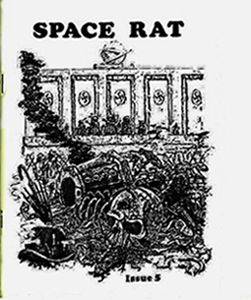 Space Rat was a media science fiction fanzine by Jackie Marshall and Val Douglas.
Between 1983 and 1985, eight issues of Space Rat appeared from Norfolk, UK, before the editors changed the name to Queen Bat and published more issues. Space Rat was a multifandom anthology, covering Blake's 7, Doctor Who, and Hitchhiker's Guide to the Galaxy.
Included were articles, essays, book reviews, science fiction recipes, and fan fiction by Nick Cooper, Val Douglas, Jackie Marshall, and the four part series, "Wealth Of Nation" by Martin J. Wiggins.
Featured interviews were with Doctor Who author Anthony Ainley, among others.
Nick Cooper writes in his 1997 article, "Journeys By fanzine"; "Edited by Val Douglas and Jackie Marshall, Space Rat reflected their tastes, incorporating Blake's 7 and The Hitch-Hiker's Guide to the Galaxy, as well as Doctor Who, often in the same stories! I'd heard about Space Rat, and immediately bought the first issue I could (#6). It's difficult to quantify the experience of reading that first issue of Space Rat, but it was a bit like you'd gate-crashed a party, yet no-one showed the slightest intention of throwing you out!"