Difference between revisions of "Pelf"
From ZineWiki
Jump to navigation
Jump to search
 

(One intermediate revision by the same user not shown)

(No difference)
---
Latest revision as of 00:58, 28 January 2016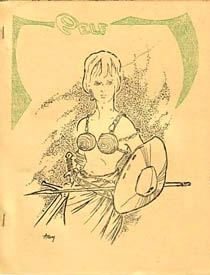 Pelf was a science fiction fanzine published by Dave Hulan and Dave Locke in the U.S.A.
Pelf was published in the 1960s and 1970s, with Dave Hulan publishing from Alabama, and then from California, and Dave Locke from New York, and then California, U.S.A. Issue 2 was released in 1962, with #3 mailed out in the Southern Fandom Press Alliance mailing of June 1963, # 5 appeared in October 1968, # 6 in February 1969, # 7 in April 1969, #10 in May 1973, and # 13 in May 1977. 14 issues appeared in total.
The word 'pelf' refers to money, riches and gain, but usually ill-gotten, and comes from the Old French 'pelfre', meaning "booty, stolen goods", related to pilfer.
Contributors included Robert Couslon (Yandro), Dave Locke, Milt Stevens, Bjo Trimble (Pas-Tell, Melange), and Harry Warner, Jr. (Horizons), with the article, "Most Of My Days Before Yesterday", writing about the story behind his book All Our Yesterdays.
Art work was contributed by Tim Kirk, Joe Staton, and ATom, among others.
Dave Locke had earlier published the fanzine Phoenix, as well as Awry in the 1970s, Shambles with Ed Cagle, DAGLocke with Dean Grennell, and Gallimaufry with Jodi Stopa. His most recent publication is Time and Again.
External Links