Old Toys
From ZineWiki
Jump to navigation
Jump to search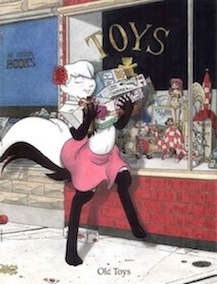 Old Toys is a science fiction collection of the fan writings of Taral Wayne.
Old Toys, subtitled "A Taralable Collection", was published in Toronto, Ontario, Canada in 2002 by Murray Moore, editor of Aztec Blue. It was mimeographed by Catherine Crocket, co-editor of Carefully Sedated, and Colin Hinz, who rebuilt a Gestetner duplicating machine for this purpose.
It featured introductions by Mike Glicksohn, co-editor of Energumen and Xenium, and Moshe Feder.
Selections included "White Badge of Courage", reprinted from the December 1989 issue of Sticky Quarters #19, edited by Brian Earl Brown; the prose poem "nothing like the sense of wonder", reprinted from the December 1988 issue of BSFan #17, edited by Elaine Stiles; "The Ghost On My Bed", and "Fan Loon's Lives" from the February 1986 issue of New Toy #1, edited by Taral Wayne; "Roach Motel" from the May 1988 issue of Vox #1, edited by Richard Bergeron; and the first publication of "Scenic Rout".
All illustrations were by Taral Wayne.
External Links