Xizquil
From ZineWiki
Jump to navigation
Jump to search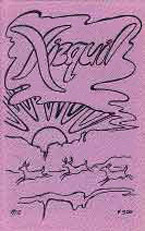 Xizquil was a science fiction and fantasy zine edited and published by Uncle River.
16 issues were published in the U.S.A., first in Reserve, New Mexico, and later in Blue, Arizona, from January 1989 to 1998.
Poetry was contributed by Ron Alexander, Andrew Allen, Helen Bach, Jodey Bateman, Elizabeth Ann Cramer, Jay Dodman, Roy P. Fairfield, John Grey, J.C. Hartley, Elizabeth Hillman, Faith L. Justice, Irving Kaufman, Kate Keely, T. Jackson King, Ronald Edward Kittell, Jim Lee, Paul Malecot, David Memmott (Ice River), Edward Mycue, William E. Passera, Pamela Patrick, Wendy Rathbone, Uncle River, Kell Robertson, Marge B. Simon (Star*Line), Steve Sneyd (Data Dump), Sue Storm, Karen Verba, Brian Walker, t. Winter-Damon, and others.
Fiction came from Ron Alexander, Tippi N. Blevins, Brad Boucher, Cathy Buburuz (Champagne Horror), Lela E. Buis, Candyce Byrne, Joseph Carrabis, Elizabeth Ann Cramer, William J. Daciuk, Jack K. Ellis, J.C. Hartley, Cathy Hicks, John Hilligoss, Ed Humpel, Geoff Jackson, Irving Kaufman, Mark Seth Lender, D.F. Lewis, John Light, H.P. Linde, Phil Locascio, SC Lofton, Albert J. Manachino, Jennifer L. Manachino, Paatricia Shaw Mathews, Ash Miller, Ezra Pines, Mark Rich (The Silent Planet, Treaders of Starlight), Lenora K. Rogers, Sara Ryan, Michael Robbins, P.J. Sharpe, Steven L. Shrewsbury, David Shtogryn, Marge B. Simon, Richard Singer, R.K. Singh, Steve Sneyd, M. Stasiak, Darren Stevenson, Sue Storm, Dee Tomczyk, Scott C. Virtes, Cynthia Ward, Donn Webb, J.A. Wells, Brian Wightman, Harry Willson, t. Winter-Damon, and others.
Essays were contributed by Ralph Kolodny, Patricia Prime, and Uncle River, among others.
Cover artwork came from Summer Breeze, Karen Christensen, Lone Wolf Circles, Kevin D. Duncan, Ron Leming, Debra Ostrokolowicz, Margaret B. Simon, Andy Tubbesing and Scott C. Virtes.
Interior artwork was by Martha Borchardt, Stepan Chapman, Karen Christensen, Larry Dickison, Kevin D. Duncan, Dougan Hales, Albert Manachino, Marge Simon, and Andy Tubbesing.