The Best of Fandom 1957
From ZineWiki
Jump to navigation
Jump to search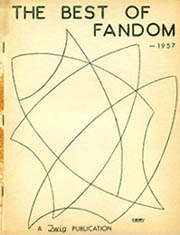 The Best of Fandom 1957 was a science fiction anthology edited and published by Guy Terwilleger.
The Best of Fandom 1957 was published in a limited edition of 100 copies, and was the first "fanthology". It was compiled by the individual fanzine editors who chose what they considered the best writing that appeared in their fanzine in 1957. The introduction was written by Robert Bloch.
The contributors are Brian Aldiss, Mal Ashworth, Ken Beale, John Berry, Robert Bloch, "Carl Brandon" (Terry Carr), Robert Coulson, Herbert Beach, Roy Cadwell, Alan Dodd, Dave Foley, Dean Grennell, Dave Jenrette, David MacDonald, Len Moffatt, John Quaqliano, Tom Reamy, Bob Shaw, Ron Smith, Thomas Stratton, Peter Walsh, Robert Williams, and Walt Willis.
Artwork was contributed by Dan Adkins, Juanita Coulson (Yandro), Jack Harkness, William Rotsler, and Jean Young (later co-editor of Garage Floor, and The Cambridge Scene).
Guy Terwilleger also published The Best of Fandom 1958.