Testament of Lael
From ZineWiki
Jump to navigation
Jump to search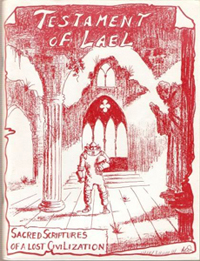 Testament of Lael was a small press publication edited by Maggie Cooper and published by Small Press.
Testament of Lael was published in the 1990s in Jacksonville, Florida, U.S.A.. and was literary zine devoted to speculative fiction, horror, and weird fiction.
Contributors of prose included Darrell Bain, Cathy Buburuz (Champagne Horror), S. Darnbrook Colson, Richard Dahlstrom, John Hartnett, D.F. Lewis (Nemonymous), Charles M. Saplak, Marge Simon (Star*Line), Acquanetta M. Sproule (as Max Strange), Mark Stucky, Chris Tannlund, Scott Thomas, Uncle River (Xizquil), Ralph E. Vaughan, William John Watkins,and others.
Contributions of poetry included Ruth Berman (SH - sf Fanthology) and Steven L. Shrewsbury, among others.