Sorrow Pants
From ZineWiki
Jump to navigation
Jump to search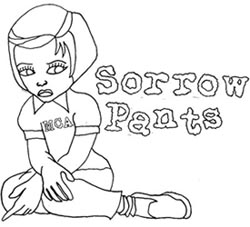 Sorrow Pants is a zine by four different zinesters who felt the need to join forces.
Tina Armstrong has considered Tacoma, WA to be her writing womb since she began to write at the tender age of eleven. What started out as romantic fiction about boys she had crushes on in her neighborhood turned into poetry in her teen years, creative non-fiction in her 20's, and a mishmash of micro-fiction, prose, and all the aforementioned in her 30's.She was the creative force behind such projects as The F-Bomb, Loco Pantaloons, and Kismet Said...
Deirdree Prudence is a Los Angeles based artist, writer & zinester. She produces Gag Me With A..., a quarterly zine in its 6th issue, as well as various one shots such as Elliot Smith Stabbed Himself In the Heart, The Good Times Are Killing Me, Bisous Petillants, Doo-wop GIrl Groups of the '60s, Happy Holidaze, etc. She is the force behind Peter Lorre Is Dead Productions & contributes art & words to other zines as much as she possibly can (Dainty As Fuck, Cadillac Girl, Feminism Is Not Dead, among others).
Keith Landrum writes and makes art in Chattanooga, TN with his wife and two daughters. Keith's words have been published in Electric Windmill, Mad Swirl, Paraphernalia Quarterly, Poor Mojo's Almanac(k), We'll Never Have Paris, and the Desperanto poetry collection Bound By The Secrets We Trust among others. His 'zine Every Reason can be found in bookstores, zine libraries, and bars all over the world.
Karley Bayer, from Baltimore County, is The Filth Zine Queen. She is handicapped and uses a wheelchair, so she lives a double life. She would much rather live in her short stories. She started the Filth a year and a half ago, and hopes to take it far into the future. Karley Marie has been published in numerous zines, wrote for her middle school (and college) newspaper, and wrote copy for her high school yearbook for four years.
Help us with our project! We want to debut at the Portland Zine Symposium!! http://www.kickstarter.com/projects/470519575/support-sorrow-pants-zine
Contact
Tina Armstrong tinathehyena@gmail.com
Deirdree Prudence PeterLorreIsDead@gmail.com
Karley Bayer karleybayer@gmail.com
External Links