Homopunk World
From ZineWiki
Jump to navigation
Jump to search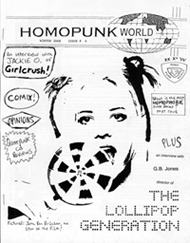 Homopunk World is a queer punk zine published in New York by Anonymous Boy.
Homopunk World first appeared in 1997 and featured interviews with Pansy Division and Anne Franne, editor of Aunt Franne zine, who appears on the cover with Anonymous Boy. The second issue, released in 1999, includes interviews with Joe Butcher of the band Ludichrist, Abby Denson, and G.B. Jones, who also appears on the cover with Anonymous Boy. Issue three, with an Anonymous Boy drawing on the cover, came out in 2000 and featured an interview with C. Bard Cole, editor of Riot Boy and Tattooed Love Boys zines, and an argument conducted through letters between Anonymous Boy and Jeff Bale, editor of Hit List and former Maximum Rock 'N' Roll writer. The queer punk band Limp Wrist, as drawn by Anonymous Boy, was on the cover of Issue four, released in 2004, with an interview inside. Issue five also appeared in 2004, and included interviews with Adam of the website 'Queerpunks.com' and Bejay Rose of the NYC Queer Skin and Punk party M8.
Several issues also include a special "Homo Punk Pioneers" page: Faebhean Kwest from the band The Raped appears in Issue two, Issue four features Lance Loud of the band The Mumps and Issue five presents Phranc from the bands Nervous Gender, Catholic Discipline and solo artist. Other features have included "The Most Homophobic Record Ever Made", and reviews of queercore CDs and fanzines.
In the winter of 2008 issue six appeared, featuring an interview with G.B. Jones about her film The Lollipop Generation, in which Anonymous Boy appears. The cover features the star of the film, Jena von Brücker. There is also a comic by the editor, entitled The Sad Tale of Dennis Down-N-Out, an interview with Jackie O. of the band Girlcrush, and other features familiar to fans of Homopunk World.
External Links