HYPErion
From ZineWiki
Jump to navigation
Jump to search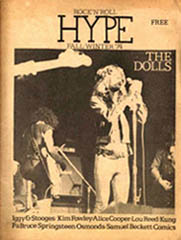 HYPErion is a music fanzine published by Mark Jenkins.
HYPErion was published in Annapolis, Maryland, U.S.A. in the 1970s. Originally titled Hyperion, the title changed gradually over time on the cover to become HYPE, while the colophon continued to use the name HYPErion.
HYPErion could be considered a 'proto-punk' zine, since many of the musical acts covered would be credited as the influences of punk, or as a glam rock or glitter rock zine. With in the pages of the fanzine could be found photos and articles on Alice Cooper, David Bowie, John Cale, The Kinks, The New York Dolls, Lou Reed, Iggy Stooge and The Stooges, and The Velvet Underground as well as Kim Fowley, The Osmonds, and The Sweet.
Also included are articles and reviews on writers such as Samuel Beckett and artists such as Salvador Dali, as well as films, television and comics.
Contributing writers included Roger Bain, Alex Calabrese, William Campbell, Steven Gray, Solomon Gruberger, DC Hatch, Libby Hatch, Ken Highland, Rainer Karasz, Bill Kunkel (Rats!, Four Star Extra), Frank Lima, CD Macauley, Paul McArthur, Richard Meltzer, Steve Miller, Edouard Moliner, and Bruce Townley (later publisher of Oblong).
Bruce Townley wrote a fanzine review column called "Almost Another", that featured such science fiction fanzines as Carandaith and Granfalloon.
Contributing illustrators included John Clagett, Mark Jenkins, Tom Johnson, and Bruce Townley. Photographers included Rainer Karasz.
Letters came from Lester Bangs, Ken Highland, Dick Johnson, Richard Meltzer and Les Spears.
The Fall/Winter 1974 issue, Volume 6, No. 162, awards their top five awards to 1. The New York Dolls, including David Johanson as Songwriter of the Year for The New York Dolls; 2. John Cale for Paris 1919; 3. Blue Oyster Cult for Tyranny and Mutation; 4. Alice Cooper for Billion Dollar Babies; and 5. The Sweet for The Sweet.